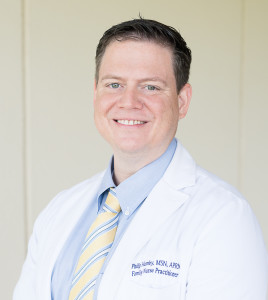 Philip Hamby, MSN, APRN, FNP-c joined FMNTX in January 2013. In addition to being a provider, Philip serves as the CEO. Philip brings with him over a decade of healthcare experience. Philip grew up in small town Mississippi where he graduated early, at the age of 17, to enlist in the United States Marine Corps where he served five years on active duty. His duty took him as far away as Okinawa, Japan and as close as NAS JRB Fort Worth, where he met the love of his life and settled down. After the Corps, Philip attended the University of Texas at Arlington, receiving his Bachelors of Science in Nursing. Philip's nursing career spanned many settings, including: emergency, post op recovery and correctional. Philip returned to school to earn his Masters of Science in Nursing, with a focus in Family Nurse Practitioner, from Texas Woman's University. Philip continues his service to our country as a Commissioned Officer in the Air Force Reserve.
Philip enjoys primary care because it affords the opportunity to have a long, meaningful relationship with his patients. Philip strives to live by the ethos of treating others as he would want to be treated. In addition to primary care, Philip has a real heart for those suffering with substance and chemical addiction. In 2010, Philip helped to found a local residential treatment center and in 2012 co-founded an Intensive Outpatient Program in DFW. He has since stepped down to focus on primary care but remains active in the recovery community by providing medication assisted sobriety treatment options in the primary care setting.
Philip resides in North Fort Worth with his wife, three kids, Great Dane and Siamese. When not working or with family, Philip enjoys spending time with his church family, exercising, reading books, watching movies, hunting and golfing.
Education:
B.S.N. from The University of Texas at Arlington
M.S.N. from Texas Woman's University
Affiliations:
Board Certified Specialist in Family Nurse Practitioner by the American Academy of Nurse Practitioners
American Academy of Nurse Practitioners